Phone: (970) 275 4700 Email: stay@cowcreeksuites.com

Custom built in 2007, Cow Creek Suite's immaculate and luxuriously comfortable accommodations, quiet edge-of-town location and affordable rates have combined to make it one of Ridgway's most popular short term vacation rentals. And when readers of the Ouray County Plaindealer were asked in 2013 to name the best lodging in the County they voted Cow Creek Suite second only to the City of Ouray's iconic Beaumont Hotel - recognizing Cow Creek Suite as one of the top lodging options in all of Ouray County as well.

Encouraged by this success, the building's ground floor now houses our brand new Cow Creek Suite For Two. This nearly 1000 sq.ft. suite offers the same measure of affordable luxury in a large, open and airy space that our guests have come to appreciate with Cow Creek Suite but at significantly lower cost for those not needing two bedrooms or a large, full kitchen.

Both of these luxurious yet affordable furnished suites are available for short term rental and are designed to help you get the most out of your vacation dollars while enjoying a home base that fits the classic western grandeur of the surrounding landscape. Both are smoke and pet free and feature allergen barrier bedding and an AccuClean (TM) Whole Home Air Filtration System. Check them out and let us know which suits you best.

THE ORIGINAL - COW CREEK SUITE: With great second-story views of adjacent meadows and the surrounding San Juan Mountains, you will love this family friendly, two-bedroom suite featuring private full bath and fully-equipped kitchen, laundry, and dining facilities.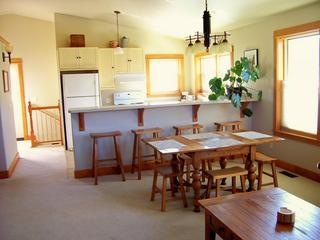 Enjoy dining convienience and flexibility in the full eat-in kitchen and dining area.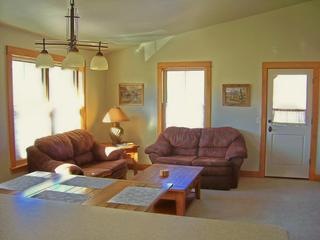 Vaulted ceilings and lots of windows make for a bight and airy feel and great views. The up-down cellular shades give you maximum control over when and how much light to let in as well as your privacy.

Offering 1,000 square feet of living space, the large, open great room and vaulted ceilings throughout provide spacious living quarters. Private decks facing east and west let you enjoy sun or shade any time of day. With a queen bed in one bedroom and two twin beds in the other, the suite comfortably sleeps four (five with a youngster on the available cot).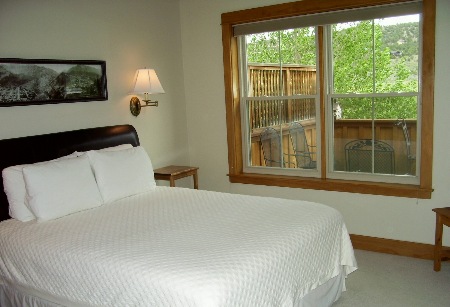 Master bedroom with views to east.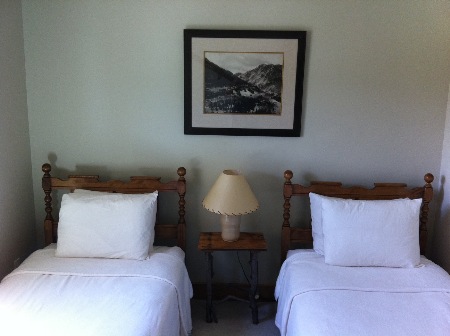 Twin beds in the 2nd bedroom.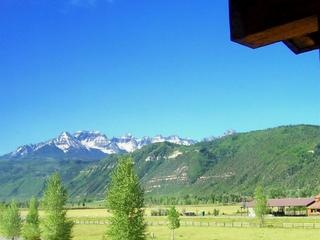 Looking southwest from front balcony towards the Sneffels Range.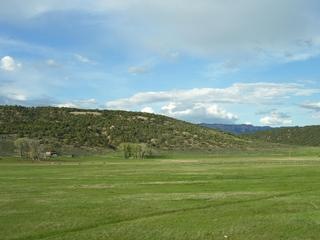 Out back...when we say edge-of-town we mean it!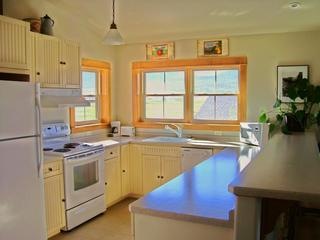 The full kitchen comes fully equipped as well.

AND INTRODUCING: COW CREEK SUITE FOR TWO. Our brand new (May, 2014) Cow Creek Suite For Two pictured below is on the ground floor and features a king bed, well-equipped ktichenette and dining facilities, private laundry and bath, and even secure, in-suite storage for your bycycles. Check it out.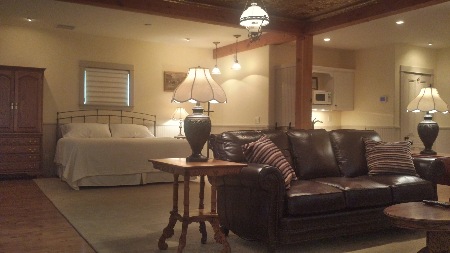 Welcome to Cow Creek Suite For Two!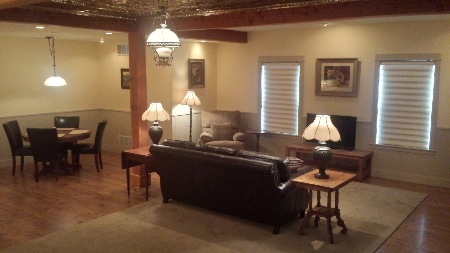 Living and dining areas. The round dining table makes an excellent game table too!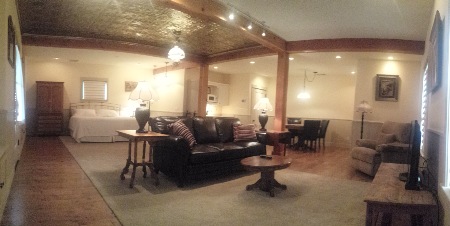 Panorama shows large, open floor plan.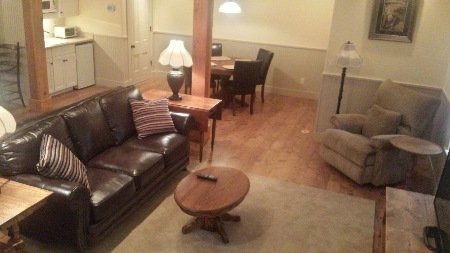 Extraordinarily comfortable seating from the leather sofa to the LazyBoy recliner to the fully padded dining chairs.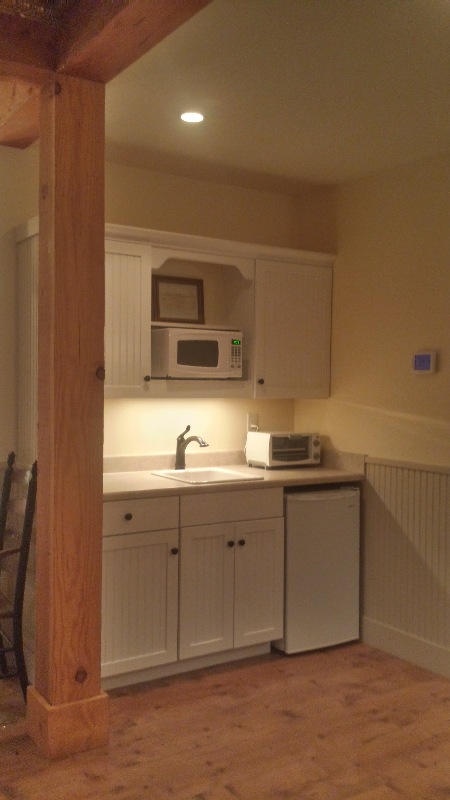 Kitchenette with microwave, coffee maker, toaster oven and refrigerator.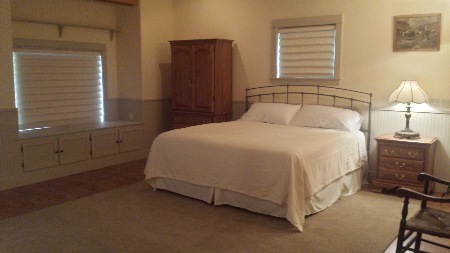 Sleeping area with king bed and plenty of storage for your clothes and gear.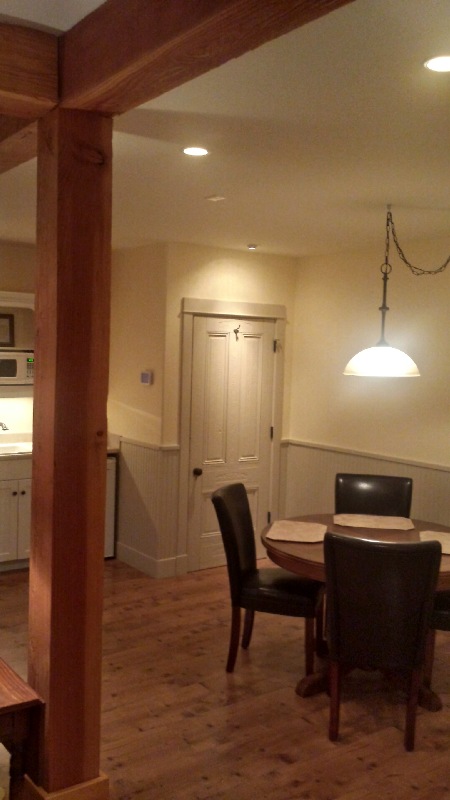 Door to private laundry and bath.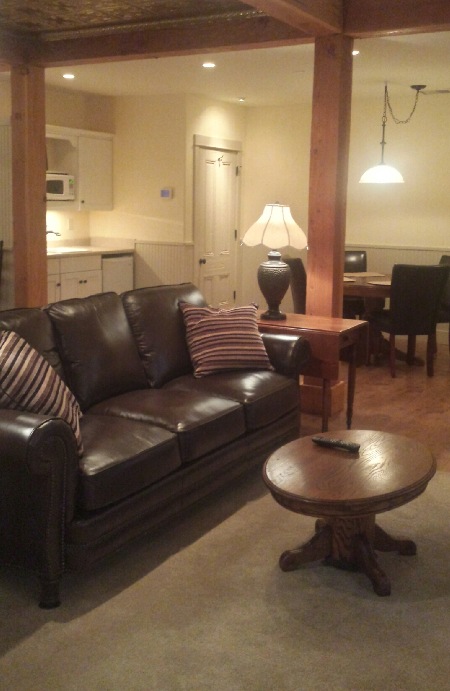 From the comfy leather sofa you will enjoy the 42" HDTV satellite service and "The Hopper" from Dish.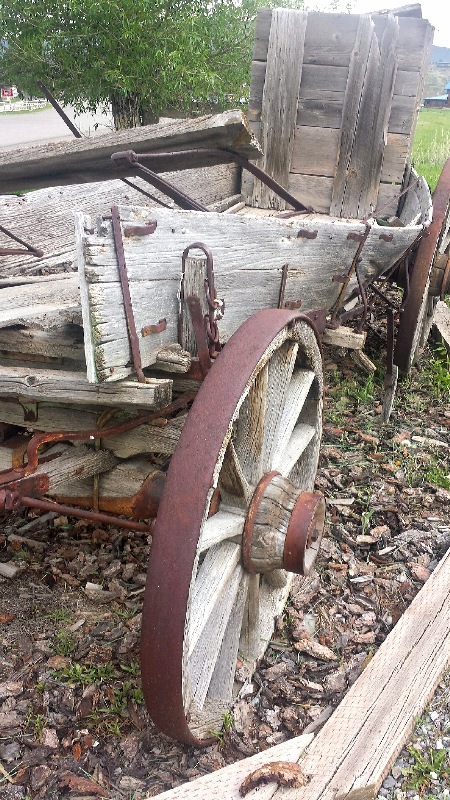 The old chuck wagon out front.

When you choose to stay at either Cow Creek Suite or Cow Creek Suite For Two you can rest easy knowing there are no fuel-burning furnaces on the premises. Instead, fresh outside air is safely headted and cooled by the highly energy efficient all-climate air source heat pump located outside the building. While the building may look as if it were built in the 1880s, this efficient heating and cooling system and the dozens of state of the art energy efficiency measures used in the building's design and construction make it among the most energy efficient buildings anywhere. As an added benefit, these energy efficiency measures ensure the suite is well insulated not just from the elements but from outside noise as well. You will notice the difference in your comfort level. Quiet comfort!

Speaking of quiet, our convenient, edge-of-town location is as quiet as it gets, yet access to Ridgway's network of bike paths is directly across the street for a quick, easy walk or ride to the action at the center of town and all of Ridgway's many fine restaurants, shops, and attractions such as the Ridgway Visitor Center, Railroad Museum, Town Park, County Fairgrounds, and the Uncompahgre River Trail. This trail traverses the river corridor to Dennis Weaver Memorial Park, Ridgway State Park, and the awesome hiking trails and single track mountain bike paths surrounding Ridgway.

From the 400 thread-count 100% cotton sheets, plush carpeting, premium HDTV service with "The Hopper" from Dish Network, to the superfast 12Mbit wireless internet service, custom woodwork, high-quality comfortable furnishings and historical area photographs and art, these spacious suites are outfitted to be your favorite home away from home.

Call or email us today to let us know which of these great vacation rentals suits you best and to inquire about availability.

SUMMER GUESTS PLEASE NOTE: Thanks in part to a growing family of repeat guests, half of our summer dates are typically reserved by January so if you have specific dates in mind please book early.

Phone: 970 275 4700 Email: cowcreek@qwestoffice.net

*RATES:

Year round, Cow Creek Suite For Two is just $89/night or $499/week plus taxes and cleaning fee, and Cow Creek Suite is just $119/night or $700/week plus taxes and cleaning fee. State and local sales taxes are 8.5% and the local lodging tax is $2/night. Cleaning Fee is $50/stay or, if more than two guests or two weeks, $75/stay. Weekly rates require a Saturday check-in. Taxes do not apply on stays of 30 nights or more.

RESERVATIONS / DEPOSIT / PAYMENT: At the time a reservation is booked, the Owner will email the Vacation Rental Agreement to the Primary Occupant and will hold the dates no obligation for 7 days. When the signed Vacation Rental Agreement is received by Owner within this 7 day period and at least 60 days prior to the Check-in Date, the Owner will charge a Reservation Deposit equal to one-half the Total Rent to the Primary Occupant's designated Discover, MasterCard or Visa credit card and confirm the reservation by email. Reservation Deposits include a US$40.00 non-refundable processing fee. The balance due will be charged to the same credit card 45 days prior to the Check-In Date. For reservations booked less than 60 days before the Check-In Date, the entire amount of the Total Rent plus the Cleaning Fee and applicable taxes will be charged to the Primary Occupant's designated Discover, MasterCard or Visa credit card. Once a reservation is booked, if the completed Rental Agreement is not received within the 7 day reservation hold period, until it is received the Owner shall be free to assign the dates to another party requesting them.

CANCELLATIONS: The following applies to all cancellations, including partial cancellations, regardless of the reason, including emergencies. Once a reservation has been confirmed, the Reservation Deposit is refundable less the US$40.00 processing fee if either a) written notice of cancellation is received by Owner at least 90 days prior to the scheduled Check-in Date, or b) Owner is able to rent the unit for the entire time period affected for the same amount of Total Rent; otherwise cancellation shall result in the Primary Occupant's forfeiture of the entire amount of the Reservation Deposit. Cancellations made less than 30 days prior to the Check-in Date shall result in the Primary Occupant's forfeiture of the entire amount of the Total Rent unless Owner is able to rent the unit for the entire time period affected for the same amount of Total Rent. Failure to check-in by 4:00pm the day following the scheduled Check-in Date is deemed a cancellation of the entire reservation.

Both Units Are Smoke And Pet Free And Feature Allergen-Barrier Bedding And The AccuClean(TM) Whole Home Air Filtration System.

Ridgway is the northern entry point to the famous San Juan Skyway Scenic Byway, 236 miles of paved highway through some of the most rugged and beautiful mountain ranges in the Rocky Mountain West. This is a big attraction for our Summer Season guests!

Ridgway is also a great place to hole up for the great summer festivals and concerts and world-class winter season skiing/boarding in nearby Telluride, or for cross-country skiing, ice climbing and hot springs soaking in and around Ridgway and Ouray.

(970) 275 4700